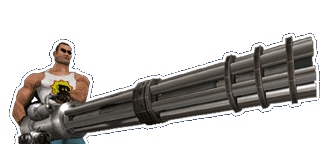 You might ask yourself, does really serious sam need more action? the answer is.. Yes! Although the game itself is a beginning to end frag feast, the sound allways can be enhanced. And there's where GurkoZ Productions comes in handy.
This Enhancement will put you face to face with all the baddies, only this time, with a top notch sonic experience in the backpack.
Features
The Enhancement only features sounds, since the graphical aspect of the game is up to standards. The sounds range all from weapon sounds to new item and pickup sounds. In other words, it's use is aimed towards the player and none of the enemy or ambient sounds have been changed.
Download
Due to the lack of webspace the download is currently offline. A new and updated version is in the works and will be available in a near future.
Install instructions
Unzip and place the file in the root directory.
Troubleshooting
None reported.
Feedback
Feel free to email me about ideas, pros and cons.
Future Updates
Possible.
Copyright and Distribution Permissions
DISCLAIMER: GurkoZ is not responsible for any harm or psychological affects, loss of hearing, fatigue or general irresponsibility from playing with this enhancement. GurkoZ Productions Serious Sam is 100% safe and tested, so you should have no trouble with it. But if you do, don't blame me.GurkoZ Productions Serious Sam Enhancement is freeware and can be distributed freely as long as the zip and it's content is not modified. You are NOT authorized to put this product on any CD without the prior authority of GurkoZ Productions.
Serious Sam and the Serious Sam logo are trademarks of Croteam Ltd.