Armed Forces is a fully featured Enhancement for Sierras Swat 3.

Over 70.000 Downloads!
Features
Weapons

I've worked quite some time to make some of the suspect weapons
available for the swat players. these weapons are..

- Winchester 70
- Scorpion
- AR 15
- AUG Steyr 9mm
- Makarov
- CZ75

Other than these, i've also added some additions weapons

- Winchester 70 Stealth
- Beretta
- Raging Bull Magnum 45
- Desert Eagle


Aditional Sounds

- Made some various enhancemets on the general sounds.
- Increased the range and volume on some sounds.
- New main "Heat_cue" soundtrack featuring "The Rock" ;o)


Graphics / Visuals

- Created a new main front interface to reflect the Elite Edition and ArmedForces mod.
- Added a muzzle blast & flash effect for every weapon.
- Custom Entry & Exit wounds based upon ammo.
- Wall blood splatter effect.
- Blood splatter


Additional Sierra packs

- Implemented the best features from sierras mods.
- The weapons and cammos from "Commander pack".
- The Weapons from "td_weapon" pack.
- The hit detection and tracer effects from "td_hysteria" mod.

Screenshots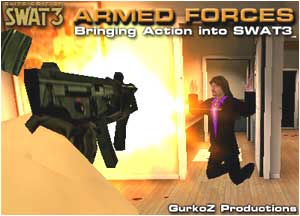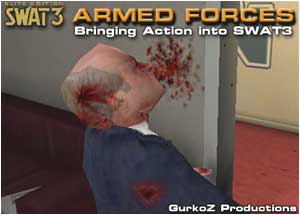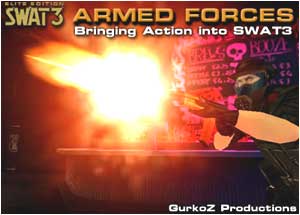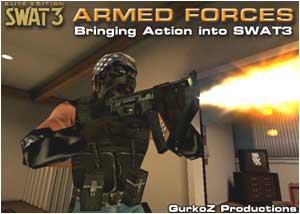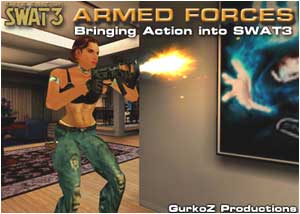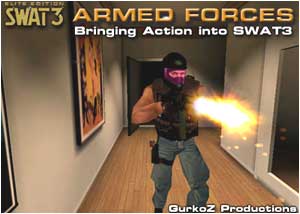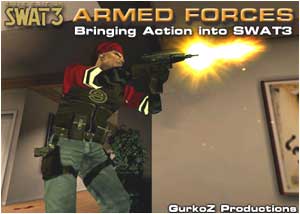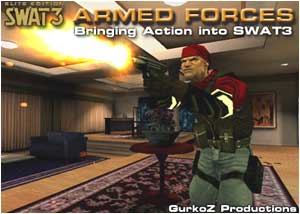 Download
Offline.
Feedback
Normally I don't post about new mods released, but this particular mod represents an important milestone for Elite Edition. Armed Forces v1.0, is the first "complete" weapons mod, because it adds such a significant number of weapons and other features to the game. Also the ARMED FORCES 1.0 mod has taken the Swat3 community by storm!!! It's the main topic of discussion at the moment and it seems that many similar mods will follow in it's footsteps =).


It totally rocks! Swat3 has never looked so good! There are no apparent flaws or bugs in Armed Forces. Just pure class! This mod is created by a professional graphic designer and it shows. So get this mod NOW! You will not regret it!


I can assure you this mod is pure class! It is well worth downloading! So don't just sit here and read! Download it and experience AF for yourself! As soon as I loaded up Swat3 with AF enabled I was blown away by how professional the game looked! The main menu has NEVER looked so good!!! And there's many other excellent features that are sure to grab your attention! There's additional weapons and sounds (as mentioned above) and they make the game better than it already is! This mod is MUST HAVE! Get it now!


I personally give this mod the Nutz4Linux Seal Of Approval, if that's worth anything...


Gurkoz. did a great job. Very neat graphics. Itīs a challenge for Sierra to compete with this master.


The armed forces mod is outstanding! It makes EE even better!!!!! Sounds are top notch, realism is better, blood effects better everything is awesome! Well done!!! If you haven't got it you don't know what you are missing.


Future Updates
Possible. The v1.0 had some minor flaws and errors needed to be fixed. I allready have a beta version of the v2.0 ready but it still needs a lot of bugtesting and final touches. I will pick up on this project when time comes.
Copyright and Distribution Permissions
DISCLAIMER: GurkoZ is not responsible for any harm or psychological affects, loss of hearing, fatigue or general irresponsibility from playing with this enhancement. GurkoZ Productions Armed Forces Enhancement is 100% safe and tested, so you should have no trouble with it. But if you do, don't blame me.GurkoZ Productions Armed Forces Enhancement is freeware and can be distributed freely as long as the zip and it's content is not modified. You are NOT authorized to put this product on any CD without the prior authority of GurkoZ Productions.
I am not responsible for any damage this modification might do to your hardware or software, if you play SWAT3 you ought to be tough enough to pick up the pieces yourself and to take full responsibility for your actions. I am doing this just for kicks and to honor a great game like SWAT3. so please don't bitch too much. It's not like I am making $$$ out of this!
SWAT3 and the SWAT3 Logotype is a registrated trademarks of Sierra.